Our products have been developed and designed as a result of the demands of our customers or our needs in the production process. As a result these are designed to solve specific problems. We are sure that you can find solutions that can be taken up and applied in your own production process otherwise we can help you develop together automation and optimization solutions that solve the problems that arise in production.
Conveyors
We can design and produce conveyor belts of the following type:
gravitational roller conveior
conveyor belt and electric drive, manual or automatic speed adjustment
conveyor for the food industry and for packaging with HabasitLINK elements (Flat Top, Flush Grid, Grip Top, Radius Grip Top, LBP, Roller TOP)
HabaSYNC sichronous strap conveyors are made of TPU matrix material and brass ropes, covered with various polyamide fabric materials on the tooth, conveyors or both sides, ESD materials. Straps can be manufactured with milling, perforations, covers or profiles to meet even extraordinary application requirements.
conveyor with accumulation

In order to make an offer of conveyor belt we need the following information:
tape type (roller, tape or other types), scope of use
length L [mm]
band width B [mm]
working height H [mm] (if the tape is tilted it requires the minimum height and the maximum height to which it must reach) the type of material transported and its unit dimensions, unit weight (box, individual parts, granular material, etc.)
maximum band load
temperature of the items transported
maximum speed vmax [m/min]
speed range vmin – vmax [m/min]
adjustment mode (in steps, continuous), description of the application
Hydraulic workshop presses
Hydraulic workshop presses 10T, 20T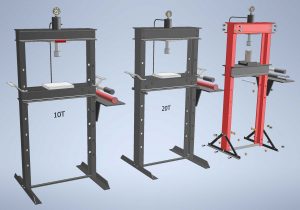 Assembly, verification, material handling, work tables, gravitational systems
These products are designed in a modular system to perform a certain function or to facilitate a certain operation on the assembly - assembly lines. They can be integrated into the assembly line and combined flexibly making it easier to produce and configure complex automatic assembly lines.

Enclosure machinery with safety fences
Safety fences protection spaces industrial robots or machinery, provide sdelimitation of work areas and ensure maximum protection of personnel and equipment, in accordance with the relevant European directives. We can ensure the design according to the requirements of the client's application. Fence panels can be made of wire mesh, opaque or transparent panels. Door locks can be integrated into the machine's safety system.
Integration of industrial robots
Integrating industrial robots into the lines of processing, assembly, measurement, powering machinery with parts, welding. Industrial robots are the ideal solution for automating repetitive processes ensuring continuity, stability qualities eliminating fluctuations generated by the human operator. Solutions with or without automatic gripper change can be designed depending on the process to be automated. The process can be simulated and analyzed with the client before deployment, this allows process optimization and reduces costs by eliminating subsequent changes.